Nyheter och bulletiner från progrockens växande värld.
x
Påminner om Uppsala Progressive Rock Festival nu på lördag. En förstklassig lineup för endast 150:-, och vädret skall bli hyfsat. Läs mer här.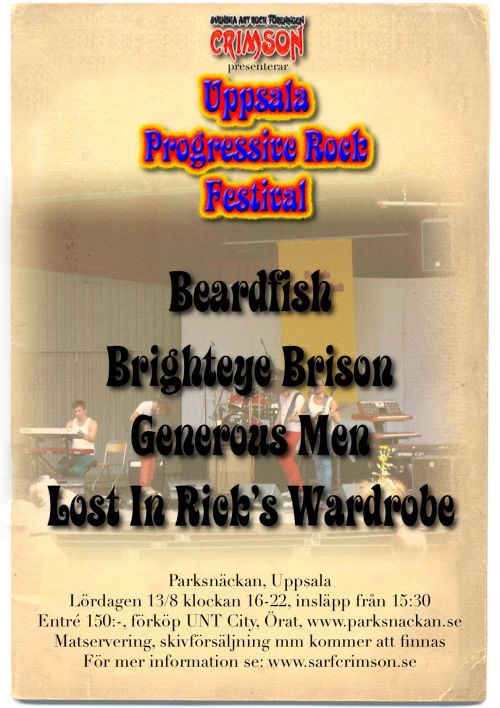 x
Youtube-trailer för norska White Willows kommande album Terminal Twilight:
x
…är en ny site som gör vad den heter, nämligen strömmar hela progrockskivor. Det sker med artisternas goda minne och är således inte olagligt.
Progstreaming is a website where everyone can listen to the latest progressive rock releases in their entirety, from the moment of a record's release onwards for a maximum of two months.
Du når den här.
x
www.popmatters.com redovisaren en lista över The 25 Best Progressive Rock Songs of All Time här. Det mesta känns förstås ingen. Men listor är ju av någon outgrundlig anledning alltid omöjliga att motstå.
x
Smakprovet från Opeths kommande Heritage, The Devils Orchard (Djävulens Fruktträdgård) har hittills sett av 5425732 personer på youtube:
Nä, skämt åsido – hör den på riktigt här.
Jag sätter en hudring på att detta blir årets progrockalbum 2011.
x
Intervju med hr Åkerfeldt:
x
Samme man fortsätter också sitt rotande i vinylbackarna på radions P4, vilket kan avlyssnas här.
x
Allt fler böcker om progressiv rock ser dagens ljus. Här är två av dem.
CITIZENS OF HOPE AND GLORY: The Story of Progressive Rock (Stephen Lambe)
Beyond and Before: Progressive Rock Since the 1960's (Paul Hegarty, Martin Halliwell)
x
Karmakanic är borta från Spotify. Men nya albumet In A Perfect World kan lyssnas på i sin helhet här.
x
Veckans föreställning: Video Games Live. SVT 2 lördag 13 augusti 2011 kl. 20.00
Inför en entusiastisk publik framför en fullödig symfoniorkester och kör teman ur de mest klassiska tv- och dataspelen.
x