Bland den ohemult stora mängd förnämliga plattor som släpptes 1975 kom Ambrosias självbetitlade debut lite i skymundan. Vid en genomlyssning nu kan man bara konstatera att detta var djupt orättvist. Plattan andas kvalitet i varje por. Det finns inte en överflödig ton. Sången är mästerlig. Inte minst stämsången är värd ett hedersomnämnande.
I inledningslåten Nice, Nice, Very Nice hörs en fagott (trakterad av bandets trummis Burleigh Drummond). Dessutom levereras värsta zigenarfiolen emellanåt.
Musiken på albumet kan möjligen beskrivas som en blandning av Kansas och Camel. Med andra ord väl genomtänkta arrangemang, vackra melodier och oklanderliga instrumentalinsatser.
Höjdpunkten Mama Frog är en sex minuter lång uppvisning i musikalisk perfektionism - med själ! I mitten ett reciterat parti från Alice i Underlandet, följt av ett furiöst instrumentalt fyrverkeri som borde ta andan ur den mest förhärdade progätare
Ambrosia var ett amerikanskt band som uppstod i efterdyningarna av den psykedeliska Los-Angeles-scenen sent sextiotal.
Efter detta förnämliga progressiva förstlingsverk spårade gruppen ur och blev ett pop-band i värsta Boston- stil.
Men debuten är en rätt anmärkningsvärd prestation som nog får sägas höra hemma på klassikerhyllan. Jag lyfter på hatten för deras musikalitet och höga ambitionsnivå. Och sörjer att de inte fortsatte på den progressiva vägen.
En invändning i marginalen skulle kunna var att soundet kanske är lite för välpolerat. Studiotekniker var ingen mindre än Alan Parsons (som tog sig an Ambrosia direkt efter "Dark Side Of The Moon").
Mig stör det inte, men den som letar efter skitig rock ´n´ roll kommer att bli besviken.
Några omdömen från progarchieves:
- I urge fans of all musical genres to listen just once to this incredible album. It's a beautiful thing
-Fans of symphonic progressive music should really take to this one
-One of the greatest debut albums of all time. This album is brilliant from start to finish.
Hela plattan på Spotify här.
Läs andra bloggomdömen här.
Songs / Tracks Listing
1. Nice, Nice, Very Nice (5:49)
2. Time Waits For No One (5:01)
3. Holdin' On To Yesterday (4:19)
4. World Leave Me Alone (3:17)
5. Make Us All Aware (4:28)
6. Lover Arrive (3:12)
7. Mama Frog (6:05)
8. Drink Of Water (6:29)
Total Time: 38:40
Line-up / Musicians
- Joe Puerta / bass guitar & lead vocals
- David Pack / guitars, lead vocals & keyboards on "Lover Arrive"
- Christopher North / keyboards & vocals
- Burleigh Drummond / percussion, bassoon & vocals
xxx
Andra album som släpptes 1975:
Camel - The Snow Goose. Pink Floyd - Wish You Were Here. Van Der Graaf Generator – Godbluff. Gentle Giant - Free Hand. Jethro Tull - Minstrel In The Gallery. Mike Oldfield – Ommadawn. Hatfield and the North - The Rotters' Club.
xxx
BONUSINFO: Nektar och ambrosia var enligt grekisk mytologi det som Olympens gudar livnärde sig på. En kost som gjorde dem odödliga.
Det finns som de flesta nog känner till även ett legendariskt progrock band vid namn Nektar.
Om man blir odödlig av att lyssna på den här musiken återstår att se. Ibland tror jag det.
Uppdatering 2010 06 19
Ambrosia kommer att uppträda på amerikanska progrock festivalen Calprog i oktober. Presenteras på detta lyriska sätt av arrangören:
In the summer of 1975 I was in college majoring in music and having discovered progressive rock a couple of years earlier I was firmly entrenched in the mostly European phenomenon. I was in awe to see groups like Yes, Genesis and Gentle Giant combining rock influences with classical music structures to create this rich new musical landscape that was to be the heart of my musical journey that has lasted nearly 40 years. Outside of Kansas, America was virtually unrepresented in the genre at that time, a fact that I found somewhat disturbing. But then acting on the recommendation of a high school marching band member that rode on the school bus I drove, I bought a new album simply entitled Ambrosia.
And there it was, an American band, strike that, a band from the South Bay, had created a prog masterpiece. It was fresh, lyrically interesting, musically adventuresome, and harmonically exciting. But besides these typical prog traits, there were beautiful harmonious voices applied with soul and a hint of pop. David Pack, Joe Puerta, Christopher North and Burleigh Drummond became my new heroes and one of my top 5 favorite bands of all time.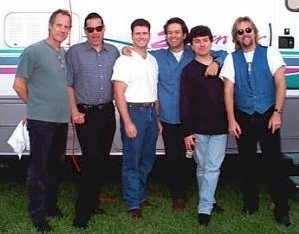 As the years moved on and the band got more and more recognition, they started favoring the pop side (driven by financial rewards I suspect) and ended up garnering 5 Grammy nominations. But even as they became pop icons, in each album you could always find some songs that harkened back to their progressive beginnings.
Ever since CalProg started in 2004, they have been on our radar as a possible act. We even went so far as to take members of the CP Exec Staff on a scouting mission to one of their live shows in San Pedro. It was an odd night, the crowd filled mostly with what appeared to be longshoremen, and bands like Titanic Johnson and The Zombies shared the bill. A fist fight even broke out in the lobby during one of the band's sets, which did it's part to mar the event for us. Ambrosia SOUNDED great, but they played all their pop hits and barely touched on the prog gems we were hoping to hear. We feared they had permanently gone to the dark side and so did not pursue them any further. But then the following year they were booked to do a prog set at ROSfest and by all accounts they brought the house down. (many thanks to Iggy for having that insight!)
Last year I got in touch with Burleigh (the drummer) and we started discussing ways to combine forces to present Ambrosia as a prog band. And when booking this year's festival it seemed the time was right to bring my long time heroes to the CalProg stage. "We are so excited to be able to return to our progressive roots and do an all prog show here in southern California" says Drummond. "This is gonna be great!"
So it is with great excitement that we welcome this band who has collaborated with the likes of Leonard Bernstein, Kurt Vonnegut Junior and Alan Parsons to the CalProg stage to share their classic prog catalog with us.
PJ