Det ryktas om återföreningar av band till höger och vänster. Om bara hälften av ryktena stämmer kommer nästa år att bli ett historiskt bra prog år.
- Emerson, Lake & Palmer kommer att spela live nästa år. Läs en intervju med Greg Lake här.
- Legendariska UK ( med Eddie Jobson i spetsen) skall på turné i Europa till våren. Bandet har under namnet U-Z (Ultimate Zero) nyligen genomfört tre konserter i Polen. Utöver Eddie på fiol och klaviaturer medverkade John Wetton, Greg Howe, Tony Levin och Marco Minnemann.
Lyssna på hur UK lät för 30 år sedan här.
- Gary Green, Derek Shulman och Kerry Minnear ( från Gentle Giant) har nyligen käkat middag ihop i New York. Svårt att änka sig att dom inte pratade återförening.
(Mja, kanske inte ändå. På frågan om en möjlig återförening svarar Derek Shulman så här i en färsk intervju:
To go back and be your own tribute band, for me, would be kind of embarrassing. I've seen a couple of these reunions. When we said that's it — that was it. It didn't trickle to a stop — it stopped.
Läs mer om en eventuell reunion från intervjun med Derek och brorsan Ray här).
x
Välgjord och aktuell intervju med Jethro Tull´s Ian Anderson här. Han förklarar bland annat varför JT inte spelade på Woodstock-festivalen, fast de hade chansen.
Och här finns (troligtvis) alla Jethro Tull relaterade länkar på nätet samlade.
x
Dream Theater tilldelades utmärkelsen "Spirit Of Prog"
vid Classic Rock Roll Of Honour Awards. Grattis. Hela listan här.
x
Big Big Train låter dig lyssna strömmande på delar av nya The Underfall Yard på deras hemsida. & myspace.
Det låter bra. Det är samtida progressive när den är som bäst, tycker jag.
x
Göteborgs Art Rock Förening (GARF) anordnar lyssningskväll med tema Yes på Restaurang Galliano. Masthuggstorget, Göteborg, 28 november kl 18.00.
x
En dvd med tidiga bilder på Yes (69-70) har sett dagens ljus. Från tysk och belgiskt tv. Läs mer och se klipp här.
The performances featured on this DVD however are from the very early days of the band. You could say from a time "Before and Beyond" their massive success; but the spark of what made them the massively successful band they became is visible here for all to see and hear.
x
Novembers 20-bästa lista enligt holländska Progwereld – här.
x
Nedan The Lure Of Dreams från Glass Hammer´s kommande album "Three Cheers". Bandets hemsida här.
x
Härligt smäktande akustiska gitarrer från Genesis första gitarrist på denna nya platta med låtar som tidigare bara funnits utspridda på diverse komplilationer.
x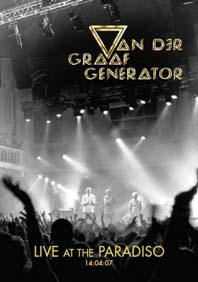 Jag har aldrig begripit hur Van der Graaf Generator kan låta ännu bättre utan David Jackson på saxofon. Men så är det faktiskt. Här en dvd från en konsert 2007 på Paradiso i Amsterdam. Denna film, inspelad för holländsk tv låg tidigare tillgänglig på nätet för gratis tittande. Jag såg den då och kan gå i god för att den är mycket, mycket bra. Innehåller bonusintervju med Peter Hammill.
x
Bonus: Lyssna på Gentle Giant – "The Boys in the Band" från 1973.